There's this myth in phychology that we only use 10% of our brainpower. We could say the same for Microsoft Teams, most organizations never get to explore the many possibilities that Microsoft Teams is capable of.
Microsoft Teams get updates every two weeks, adding new features, fixing bugs and upgrading their user experience. The reason for these updates is to give the users a 365% enjoyable experience and a consistent value for their money. In this post, we'll be looking at 12 new Microsoft Teams hacks, tricks and tips that will enable organizations to better utilize the Teams platform.
1. Translate
The translate feature in Teams enables users to switch the default language to their Lingua Franca for better comprehension. Bigger corporations and educational institutions with a presence in several countries are more likely to benefit from this unique multilingual feature.
To access it, click on your profile at the top right of your screen and select Settings from the dropdown menu. Then navigate to the Languages section, and select the language of your choice, then press Enter to change languages.
2. Save message to read later
The "Save this message" Microsoft Teams hack is great for reserving messaging to read later. You could be caught up in a task and a message drops in from a colleague, you can save it for a later time when you're less busy.
To use this feature, click on the three dots that show when you navigate across the message and click on "save this message" to save it.
To access your saved message, click on your profile at the top right of your screen and select Saved from the dropdown menu**.**
3. Add a Whiteboard
Whiteboards are great for brainstorming, collaboration, and sharing ideas. With Microsoft Teams you can add a whiteboard to your meetings and share ideas and sketches with your team members. Watch the video below and follow the process to add whiteboards to your meetings.
4. Insert a Quick Poll
Adding a poll to your teams' channel or chat is another amazing Microsoft team tip. Polls are created with Microsoft Forms, an app within the Teams platform. With polls, you can quickly post surveys or questions and get instant responses from your team members.
To add a poll to your chat, navigate to the message bar on your teams and click on the Microsoft Forms icon, if not displayed click on the three dots at the end of the last icon to find the Forms App. The next step is to create the questions, surveys, or quizzes you want to use for the poll, when done send them to the participants. Feedback statistics are sent to you based on users participation.
Interesting read: FREE Microsoft 365 Alternative for Business Owners
5. Transcribe meetings in Teams
Documentation represents an essential aspect of our work structure, mainly for future reference and validation. Beyond audio recordings, Microsoft Teams enables users to extract meeting transcriptions for proper documentation. To access this feature, you'll first need to turn on the transcription feature.
Related: Microsoft Teams: The answer to Remote meetings and Collaborations
6. Don't allow attendees to unmute
Distractions are one of the main reasons for inconclusive and unproductive meetings. To maintain peace and decorum in meetings, Microsoft Teams introduced the "allow attendees to unmute feature" to help speakers and teachers to well coordinate and have full control over their audiences.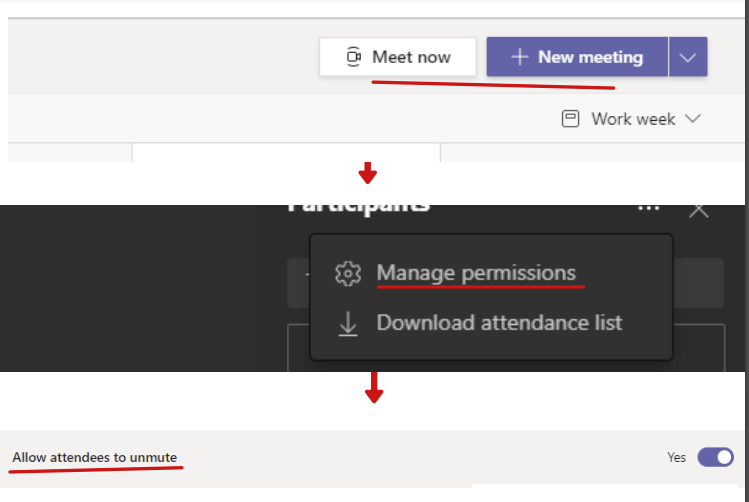 Simply create a meeting on Teams, and at the top right of the screen, just above the participants' area you'll see "Manage Permissions". It will take you to another window, where you can either choose or not choose to allow users to unmute.
7. Rich text and announcements
You can use these simple Microsoft Teams tricks to send messages and announcements with rich text within the platforms. With rich text messages, you can easily send your messages in a more structured and organized manner.
Simply navigate to the message bar on your Teams, and click on the rich text icon to access rich messages functionalities.
8. Quick filters & mentions (@)
Want to quickly sort your mentions, unread messages, and other activities but have no time to manually scan through for it? These Microsoft Teams hack is for you. With Quick filters, you can easily access your mentions and other relevant messages.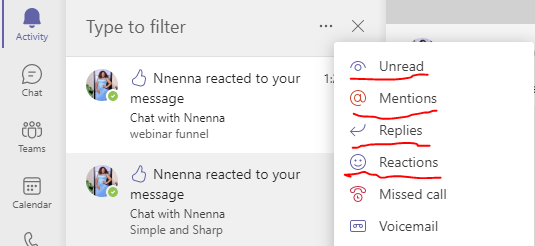 Navigate to the activity icon on the top left corner of your Teams dashboard, and click on the funnel-like filter icon to filter all your unread messages, mentions, replies, missed calls, and voice mails.
Interesting read: Top 5 Benefits of Microsoft 365 Business Premium (For Business)
9. Customize backgrounds
Another interesting Microsoft Teams hack is the ability to completely customize your meetings backgrounds. This feature helps you blur the background to weed out distractions, upload an image of your choice or choose from a gallery of beautiful backgrounds on Teams.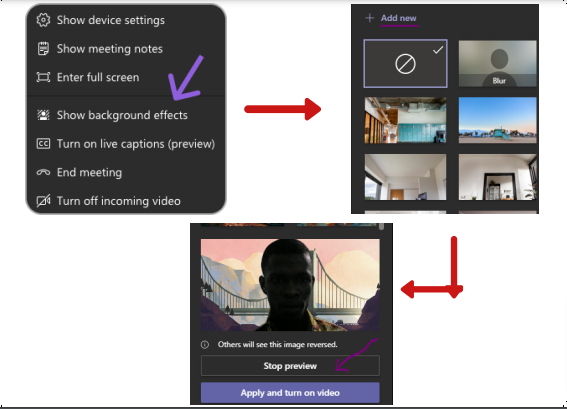 Click on the three dots menu and select Show background effects. Secondly, either select Add new or choose any image from the image gallery options. After that, you preview and apply it to your video.
10. Pop-up chat
Sometimes seeing other names and preview messages of your other contacts might be distracting and could easily break your focus. Teams pop-up chat feature is addressing the distraction issue in chats, It lets you segment a chat to a new window.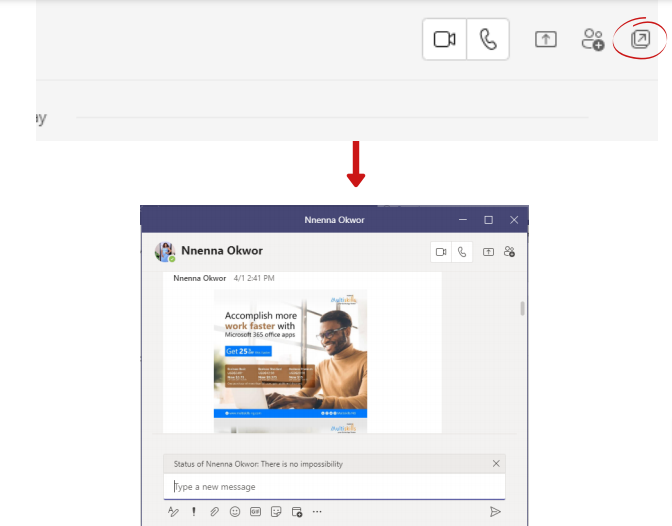 To pop a chat, Navigate to the pop-up icon at the top of your page and click on it. This will open the chat in a new window for better chat experience and focus.
11. Add Apps to Teams
With over 100 app integrations, you have unlimited possibilities with Microsoft Teams. There's an app for everything in Teams. Switching apps can be tiring at times, that's why Teams is making everything possible under one platform.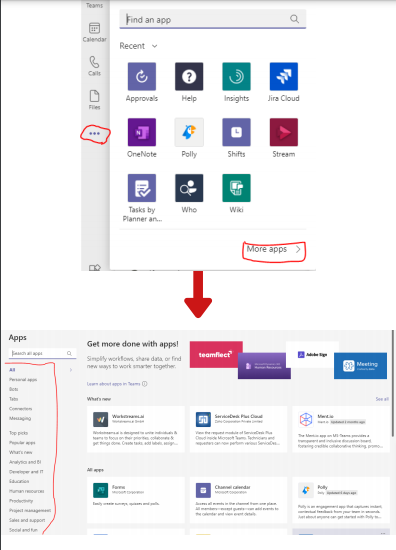 Navigate to the sidebar, and click on the three dots to access the apps. You can either choose from the featured apps or click on "More apps" to access other applications. Moreover, you can also select app categories to simplify your search and instantly add the app to your chat.
12. Team Breakouts
Team Breakouts is another Microsoft Teams hack. It's a great feature for creating sub-groups or think-tanks within a Microsoft Teams meeting, event, or conference. The organizer segment the participants into groups for brainstorming, better collaboration, and impact. Watch the video below to learn how to use Teams Breakout.
In Conclusion
There's more to Microsoft Teams than collaboration, so much more. It's a platform that can double or even 10x your productivity when used effectively, it was built for it. Endeavor not to limit yourself only to the familiar features, because there's always something new. Study and implement these 12 Microsoft Teams hack, tips and tricks, for maximum impact and efficiency.
Empower your team
For further help on how Microsoft Team can support your company's success and productivity, you're welcome to contact us.