The game has changed. It's either you prioritize your customers or lose them to your competitors.
There's no middle ground.
Beyond prioritizing your customers, they want to be heard. They want to know that you care about them as much as you want their money.
Fortunately, we live in an era of digital transformation. We live in an age where technology has transformed and simplified how we manage customer relationships.
With Customer Relationship Management Software, you can quickly generate leads, engage customers, and attend to their inquiries, amongst other benefits.
In this article, we'll be looking at the best CRM software for small businesses in Nigeria. And how small businesses can leverage it to optimize their customer relationships and generate new business.
Before we dive in, let's look at what makes a good CRM.
What Makes a Good CRM Software
Ease of use
CRM software doesn't need to be overly complex. If it's too tricky for usage, that should be a red flag for you.
Ease of usage is one of the most critical factors in choosing CRM software for your business. Here's the thing, your team might not be technical people, and a complex CRM will not just make them inefficient but also unproductive.
It's not just about being technically inclined; It's about productivity and time management. A good CRM needs to have a low learning curve.
Easy Integration
The chances are that before you consider using a CRM for your business, you might have been using other business solutions tools. The best CRM software for your business is that which allows for easy integration with your existing tools.
Flexibility and compatibility are proofs of scalability. As your business grows, you'll be needing other solutions to complement your business growth. Therefore, easy integration capability is essential in choosing CRM software.
Ease of Reporting & Analysis
How do you know when you're on the right track in business? Mainly by looking at your reports and analyzing them. A CRM should be able to help you view and examine all your reports to ascertain your profitability or loss.
Reporting is very critical in accessing business performance and optimizing for the future. Any CRM without a reporting feature is not complete.
Customer Database
A good CRM software should help you maintain a database of your customer's information. Why this matters is that, for you to delight your customers, you should first know them. You can't satisfy a stranger.
Every good CRM ought to have a way to input your customer's information. Information like name, phone, email, website, and purchase history. All of these details would help you deliver a tailor-made solution to your customers and improve your revenue.
Bitrix24 CRM: The Best CRM Software for Small Business in Nigeria
From our many analyses and comparisons, we concluded that Bitrix24 is the best CRM software for small businesses in Nigeria. This business solutions software is flexible, cost-efficient, and scalable.
Bitrix24 is used by over 9 million businesses worldwide, providing astounding results for businesses of all sizes. Bitrix24 has five core functionalities: communications, tasks and projects, CRM, contact center, and websites.
For the purpose of this article, we'll be focusing on the CRM functionality of the software. Bitrix24 CRM is a leading free online CRM for lead generation, client management, sales data analytics, customer engagement, and email marketing.
Key Features of Bitrix24 CRM
1. Leads Generation
Bitrix24 CRM comes with a plethora of tools to help you attract and capture leads into your CRM. Tools like web forms, live chat widgets, telephony, and WhatsApp can help you generate leads.
The CRM also tells you where most of your leads are coming from and what percentage converted to paying customers. It integrates your entire lead acquisition sources into a simple dashboard for easy analysis and decision-making.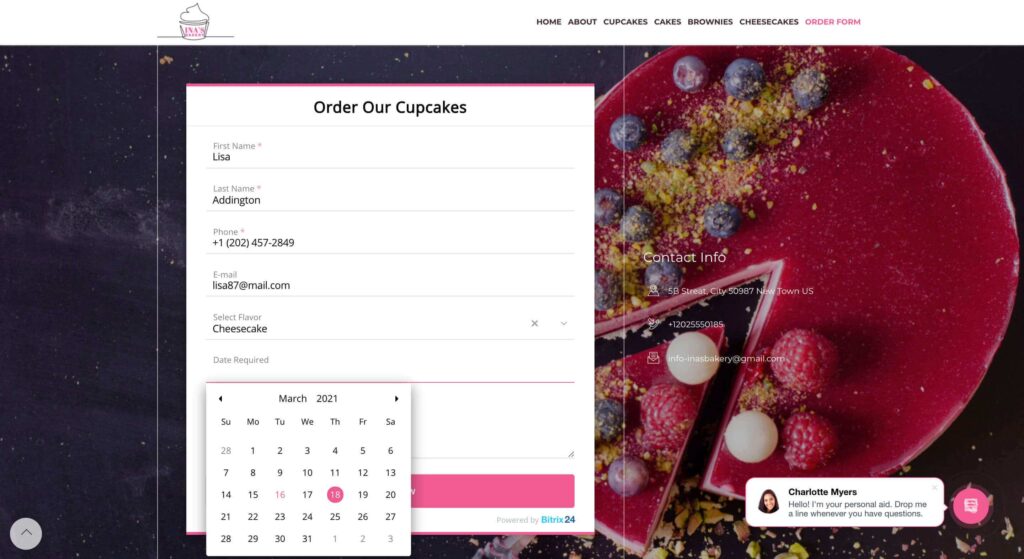 2. Unlimited Customer Database
Bitrix24 CRM has enough room for your customers. The platform lets you store your customer's information and segment them according to the stage of their purchase journey.
Bitrix24 allows you to upsell, down-sell, and cross-sell your existing customers to improve your sales performance. Set automatic emails to celebrate your customers on their birthdays and special events.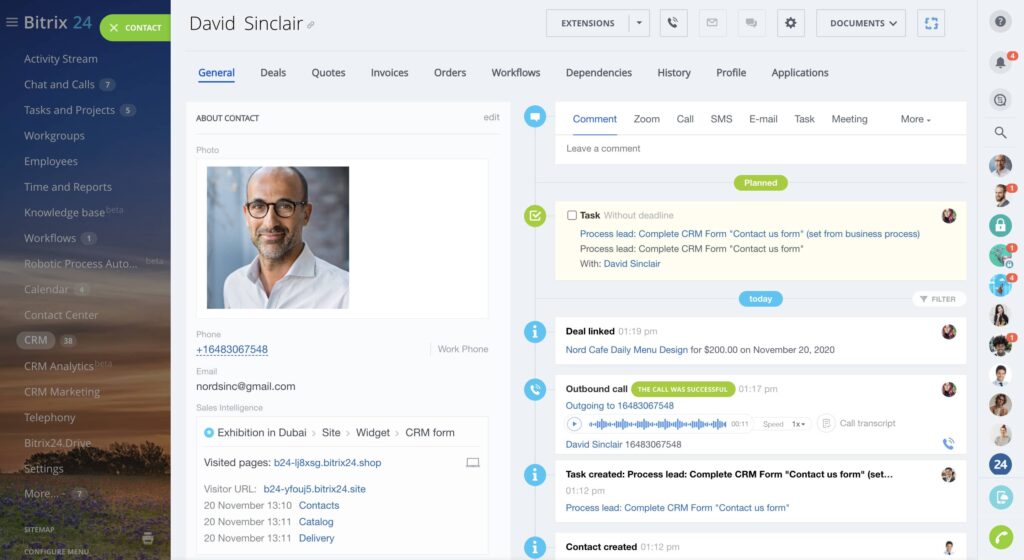 3. Sales Funnel & Automation
Improve your sales performance by visualizing your customer's journey with Bitrix24 CRM. The sales funnel enables you to plan your customer's acquisition journey all the way. By knowing and visualizing your customer's journey, you can significantly improve your sales in real-time.
Free your sales team of repetitive sales activities with automation. With Bitrix24 CRM, you can automate emails, FAQs, customer onboarding, and phone calls to boost employee efficiency and effectiveness.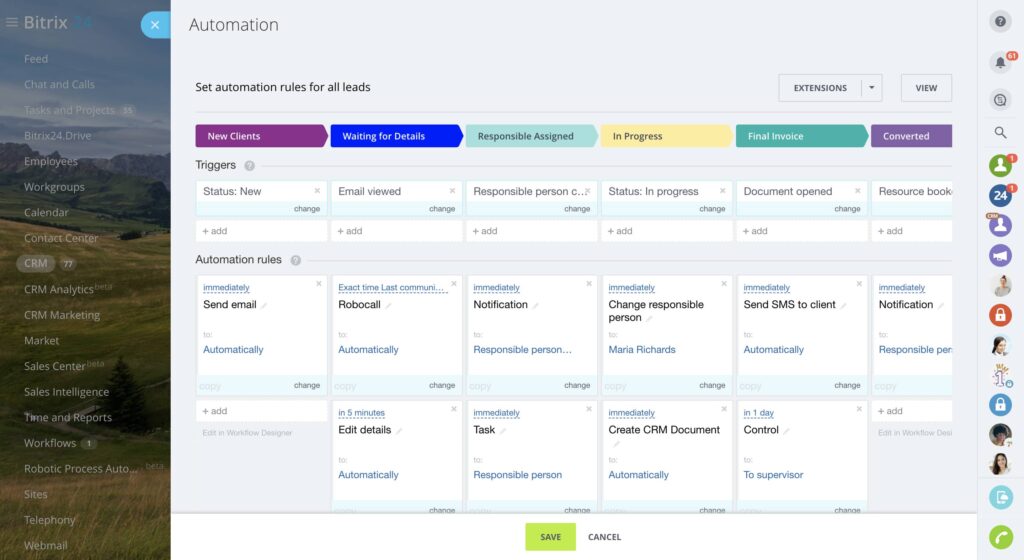 4. Email Marketing
Thanks to Bitrix24, all your email communications can be made from your CRM. It has bulk emailing capabilities that allow you to send newsletters and promotional email campaigns to your customers.
With Bitrix24, you can also track the number of persons that viewed your mail and the ones that took action. Segment your customers, and send a direct campaign to each segment accordingly.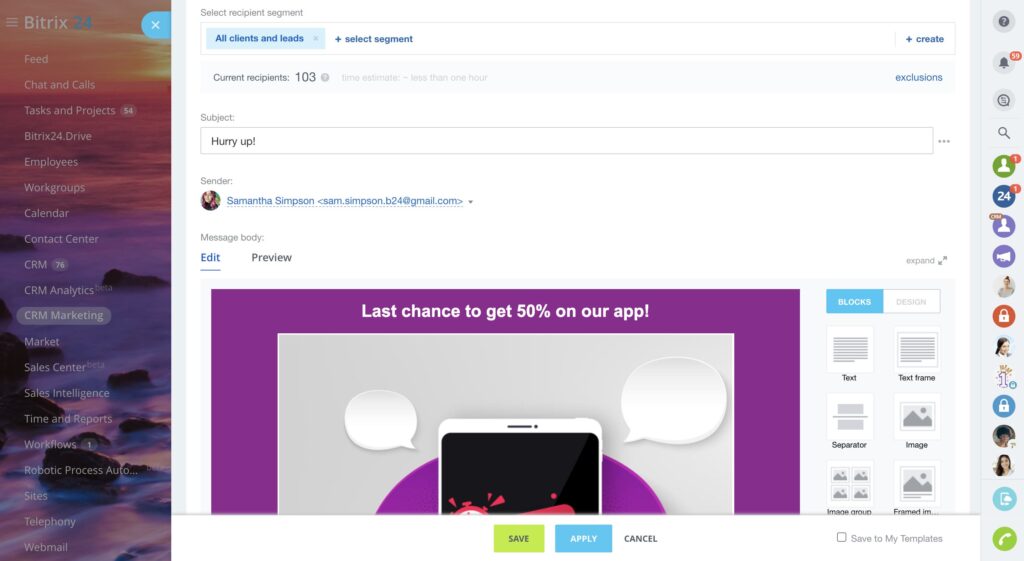 5. Online Stores and Websites
Bitrix24 CRM is the best CRM software for small businesses in Nigeria because it solves all your marketing needs. You don't need to pay a dime to a developer to build your website when using Bitrix24.
Bitrix24 comes with a simple website builder for creating unique websites and online stores. The exciting part is you don't even have to build from scratch; there are tons of premade templates to spark up creative ideas.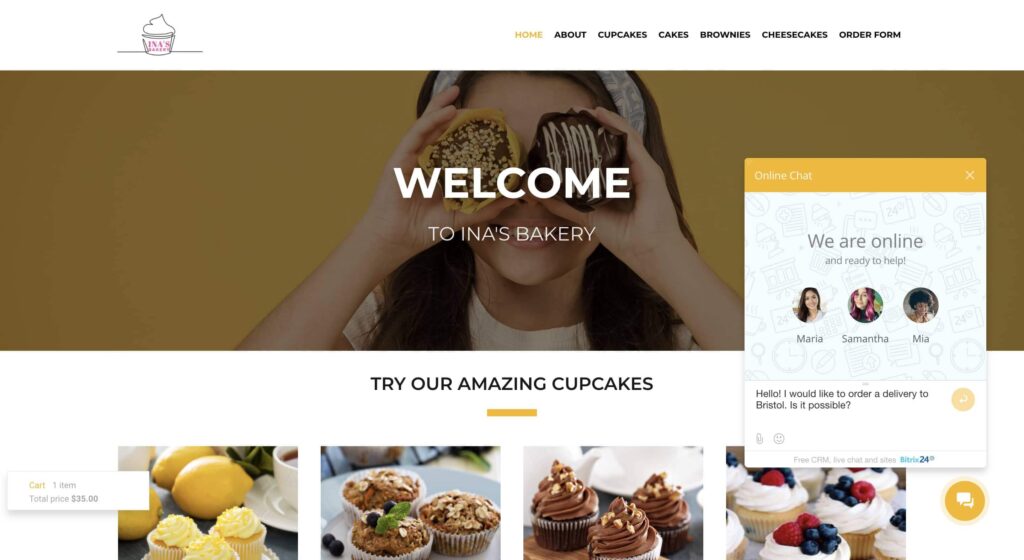 6. AdWords and Facebook Integration
Bitrix24 allows you to seamlessly integrate your Facebook and AdWords Ad accounts into your CRM. Create your Facebook and Google lead generation ads direct from your CRM, and see your ROI in real-time.
Essentially, Bitrx24 CRM has a Sales Intelligence feature that automatically populates with a real-time report from your ads. It shows the keywords that are driving the most clicks and conversions from your campaign, the campaign performance, and key results.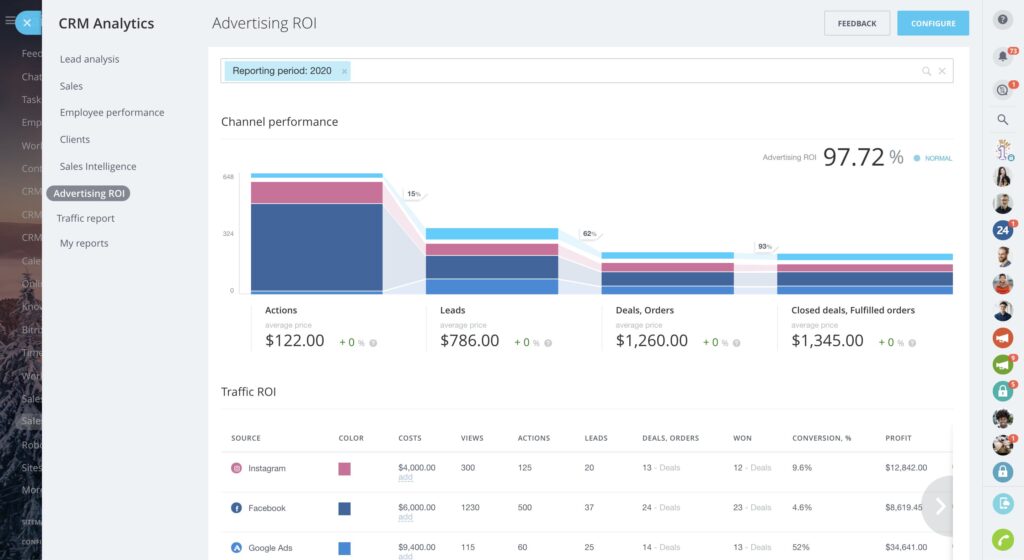 Some other features of Bitrix24 CRM include text messaging and telephony, calendars and bookings, customer support, invoicing, and sales team management.
Why Choose Bitrix24 CRM
Cost-Effective
You can start using Bitrix24 for free; no credit card is required. Yes! You heard right. Although the free plans have some limitations, it's an excellent place to start.
The other plans range from $34/month to 120/month, depending on the number of users and features you want to access. For cost-effectiveness, you can count on Bitrix24 CRM.
Tested & Trusted
With over 9 million users worldwide, Bitrix24 has earned the trust of businesses on a global scale. You're not alone. Bitix24 CRM has what it takes to drive sales and growth in your industry.
Interestingly, the learning curve is low. You don't need months to learn about the platform; you need weeks and days.
Highly Secured
Bitrix24 prioritizes security above everything else. It has seven (7) layers of protection optimized for your files and data protection. With over ten years of experience, Bitrix24 prides itself on providing the highest level of security for web projects.
Over to You!
According to the golden words of Malcolm X, "the future belongs to those who prepare for it today." With Bitrix24, you can take your business from A to point B today, not tomorrow. We at Multiskills Nigeria Limited are rooting for you, and we're here to support you at every step of your business transformation journey.
By the way, you can instantly get 100% FREE access to Bitrix24 CRM by clicking on the button below. Success awaits you on the other side.